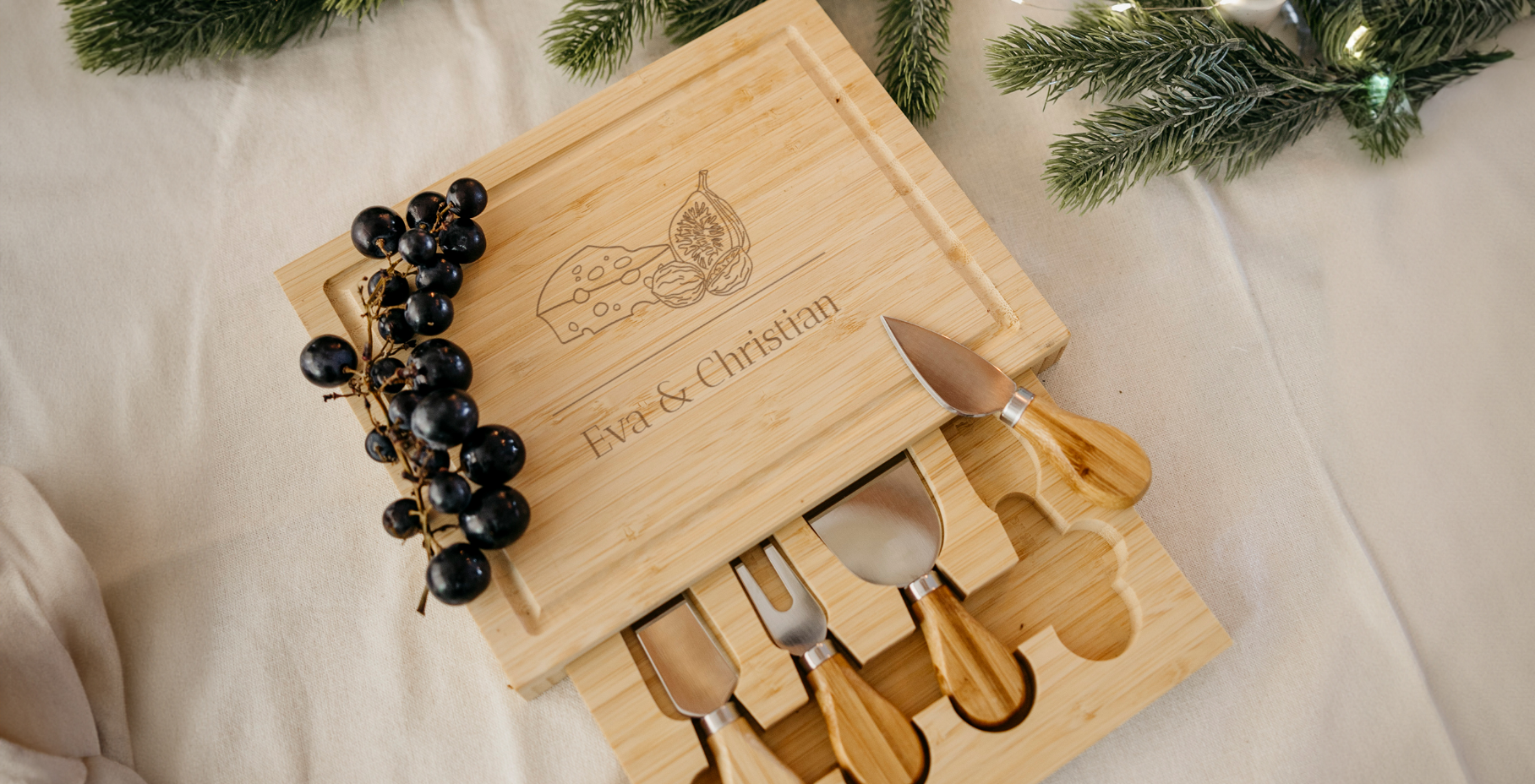 Personalised Chopping Boards
A personalised serving platter or chopping board is a great gift for a housewarming party, especially when engraved with the name or text of your choice! Check out our wide range of serving platters and chopping boards and create yours now.
Personalised wooden chopping, serving and bread boards
Our wide collection of serving and chopping boards are ideal as gifts, but also great for your own home. For example, you could give a luxury wooden chopping board personalised with a name as a gift, or design a printed glass chopping board for your own kitchen. We engrave all our chopping boards ourselves. As the design is engraved, you don't have to worry about the print fading in the dishwasher. Your chopping board is sure to remain a beautiful item!
A cutting board at home cannot be missed. Practical and useful in the kitchen and moreover, the customized cutting boards are a great way to present appetizers of cured meats, cheeses and mustards.
The cutting boards of engraved wood or printed glass are also a nice element to furnish your kitchen with style or they make a unique gift that will surprise the recipient.
How to customize the chopping board
Our cutting boards are suitable for different occasions. A way to say happy birthday to someone special, or as a gift for an important milestone. The cutting boards can be customized in different unique ways:
- Cutting boards with name, text and / or design; your personalization will be laser engraved directly on the wood. Add the cook's name or a special message for the birthday girl.
- Photo Cutting Boards; did you know you can print your photo on the glass cutting board? Choose your favorite and we will create your custom cutting board for you.
- Cutting boards with logo; a cutting board can also be a nice gift for employees or to promote your company in an original way!
Beech or teak chopping boards
Our engraved wooden cutting boards are available in two different types of wood; beech or teak.
The beech cutting boards are lighter and easier to handle, they have a light color, suitable for modern or elegant styles.
The teak cutting boards are more rustic, have a dark color, particularly suitable for country houses or industrial furniture.
Both engraved cutting boards are treated with a protective oil and equipped with a leather cord for hanging if preferred.
They can be customized in our online editor and laser engraved with a lettering, name and / or design.
Engraved bread board as a wedding gift
The way to the heart is through the stomach, especially when that means freshly baked bread on a unique bread board with text. A personalised wooden bread board is perfect to give as a wedding gift. Have the names of the bridal couple engraved on the board and then put together your own gift set. For example, you could add a pair of oven gloves and some tapas snacks. And if they think the bread board is simply too nice to use, it is also ideal as an eye-catching display piece for your interior.
Wooden serving board for breakfast in bed
Sunday morning, the perfect time to surprise your loved one with breakfast in bed! And how lovely would it be if you could serve them breakfast on a personalised wooden serving board? This can easily be arranged on YourSurprise! You can design a beautiful serving board with your own text in no time. We then make sure that the text is engraved on the board with the utmost care. Whether you're looking for a gift for him or a gift for her, our serving- and choppingboards are perfect.
Wooden chopping board as a serving board
Another great way to use the wooden chopping board is as a serving board, which is a surefire way to impress your friends. Whether you enjoy serving a cheese board with delicious French cheeses or prefer a Mediterranean selection with olives, breads and tapenade, this board will definitely make a good impression with your guests.
Shapes and prints
At YourSurprise we have a variety of board shapes for you to choose from. We have rectangular boards, round boards and even a heart-shaped board (great for Valentine's Day or anniversary gift!). You can choose from different designs and texts that we've created for you and/or you can have your own text engraved, where you can choose from various fonts and effects.
Who is this present perfect for?
This is an excellent present for: *food lovers *drink lovers *cooking enthusiasts