Casus: Personalised chocolate puzzle for escape room customers
The owner of an escape room in France had a wonderful idea. He wished to surprise his customers with a gift that everyone would love and went with the theme of his business: a personalised chocolate puzzle.
Find the hidden message in the puzzle
The idea was that the customers were actually able to use the puzzle, so a maze was added. Perhaps you remember them from your childhood: you have to draw a continuous line from the beginning to the end. If customers did this correctly, they would see the words 'Bonne Annee', which is French for 'Happy New Year'. The puzzle is pictured below.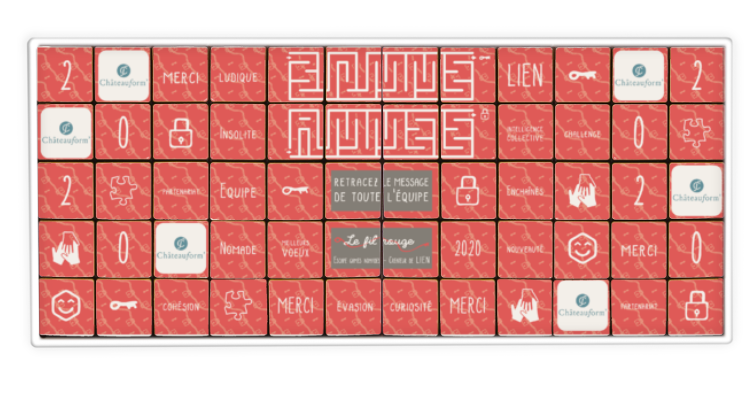 How did YourSurprise assist with this?
YourSurprise helped this French client to create the puzzle in the right size. We carefully measured each and every chocolate to ensure that the print would be perfect. As you can see above, there are chocolates showing various words and images.
YourSurprise produced the puzzle and arranged shipment to each customer. Each customer received a personalised card with their puzzle, with a personal message from the owner. These cards were also created and produced by YourSurprise.

If you are interested in a promotional gift for your customers, please contact our business department at b2b@yoursurprise.com. We would love to assist you in creating a perfect promotional gift to surprise your customers.