Casus: Flip-flops as an original promotional gift
How can you surprise your customers with an original gift? One of our clients, a chain of opticians, had a wonderful idea: personalised flip-flops, with each pair of flip-flops to be personalised by the customer themselves using their very own photo or text.
How did the promotion work?
Each customer received a flyer with information on the promotion and voucher code when they purchased a new pair of sunglasses. Their voucher code allowed them to order a pair of personalised flip-flops from YourSurprise. The fun part was that it gave the customers the chance to personalise their flip-flops however they wished, using the photo and/or text of their choice. They were also able to use the many YourSurprise designs offered in our online editor.

A dedicated page for their customers
Our clients received a dedicated page and unique URL on the YourSurprise website for their customers to use. All they needed to do was enter their voucher code before moving on to personalise their flip-flops to their heart's content.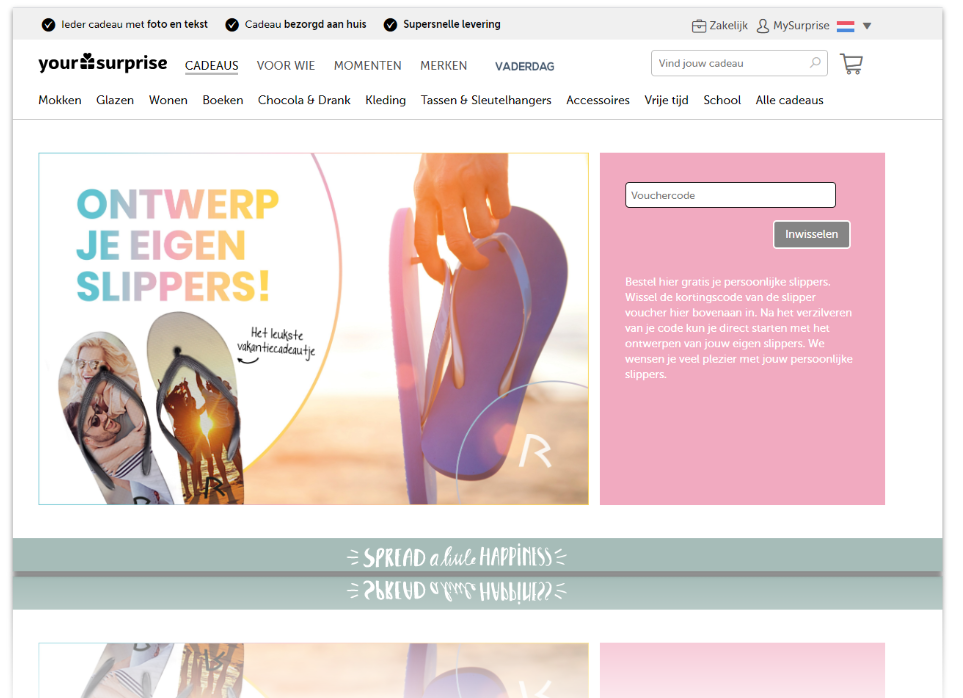 How did YourSurprise assist with this?
YourSurprise took on the entire administrative process: printing the flyers, creating the voucher codes and, of course, producing the personalised flip-flops. We also took care of shipping. All our client needed to do was hand out their flyers and create a buzz among their customers.
Are you interested in promotional gifts or a promotional offer?
Our business department would love to assist you in creating a fun promotional offer, tailored to your marketing goals. If you're pleased with our proposal, we will produce your personalised gifts for you and ensure that they reach their destination.
For further information, please contact us at b2b@yoursurprise.com.